Looking to rent a space for your next event? Keller Center Hall, located behind St. Adalbert Church is the perfect location for your upcoming wedding reception, baby shower, holiday party or business meeting. It is available for use on Friday nights as well as for Saturday day or evening events. The multi-purpose room can accommodate up to 320 people with round tables setup. The banquet hall can be closed off into a smaller room as to provide a more intimate setting for your event. All functions have use of our  banquet tables, chairs, kitchen for heating and cooling and basic cleaning services. Take a look at some of the events we have held in Keller Center along with other photos by clicking on our gallery below. Looking to have your event catered?
We are conveniently located in the heart of Berea off of Front Street. The Keller Center is easily accessible to I-71, I-480, the Ohio Turnpike and Cleveland Hopkins Airport.  It is also just a short distance from the Rocky River MetroParks, for those seeking scenic photo opportunities. You can get directions and view the surrounding area by clicking on the map on the bottom of this page.
Please contact our event coordinator, Kristen Laneve to schedule a tour of our facility and talk further about YOUR needs! We look forward to helping you host your next event!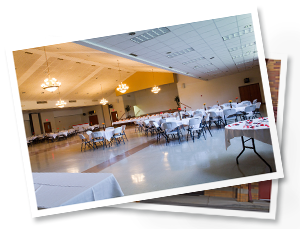 Kristen Laneve,
Event Coordinator,
440-234-6830 or office@saintadalbertparish.org